Advanced Motor Fuels in Spain
Drivers and Policies
The only legal incentive for biofuel consumption in Spain is the blending mandate. Royal Decree 1085/2015, on the promotion of biofuels, establishes mandatory goals for biofuels. These blending targets (in energy content) are 4.3% (2016), 5% (2017), 6% (2018), 7% (2019), and 8.5% (2020).
The Alternative Energy Vehicle Mobility Incentive Plan (MOVEA) is a measure that forms part of Spain's 2014–2020 Alternative Energy Vehicle Incentive Strategy. Royal Decree 1078/2015 regulates the guidelines for the direct granting of aid for the purchase of electric, liquefied petroleum gas (LPG), and natural gas vehicles.
Directive 2014/94/EU on the deployment of alternative fuels infrastructure requires Member States to establish national policy frameworks for market development of alternative fuels and their infrastructure. The Spanish National Action Framework was approved in December 2016.
Advanced Motor Fuels Statistics
Spain has very little domestic oil and gas production and relies heavily on imports. Figure 1 shows the oil products the country has imported and exported in 2016.
Fig. 1 Imports and Exports of Oil Products in Spain in 2016
(Source: CORES)
As for the utilization of fossil and alternative fuels, Figures 2 and 3 and Table 1 show data on fuel consumption, vehicle fleet, and the number of public filling stations with alternative fuels. Regarding hydrogen vehicles, only a few have been developed as part of pilot projects.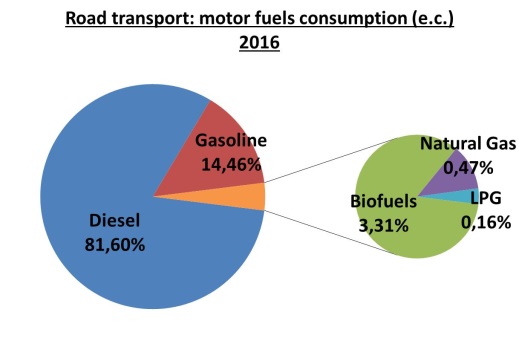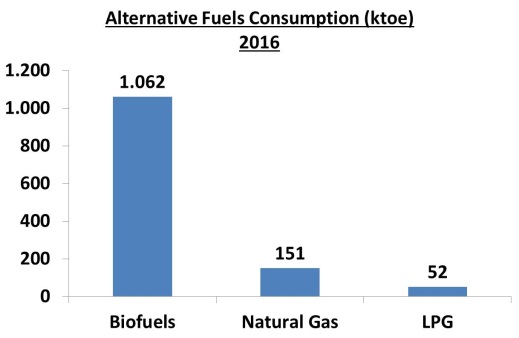 Fig. 2 Fuel Consumption (share in energy content) and Alternative Fuel Consumption (ktoe) in Spain in 2016
(Source: CORES, GASNAM)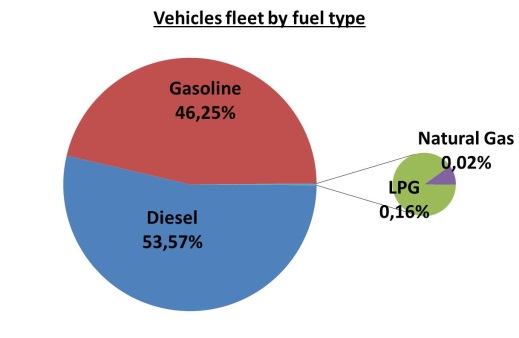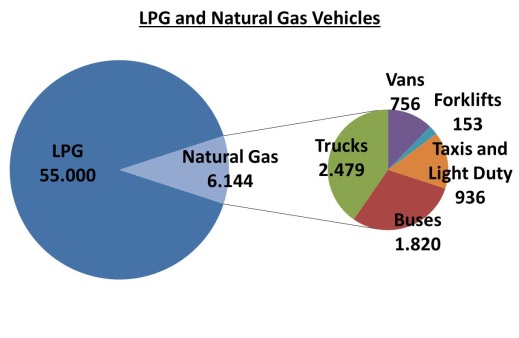 Fig. 3 Vehicle Fleet Broken Down by Fuel Type and Number of Vehicles in Spain That Could Use LPG and Natural Gas
(Source: IDAE elaboration on data from DGT, AOGLP and GASNAM)
Table 1 Filling Stations for Alternative Fuels in Spain
Alternative Fuel

Number of Filling Stations

Biodiesel blends

B20 or lower

60

B30 or higher

17

Bioethanol blends

E15 or lower

4

E85

9

LPG

540

Natural gas

46

Hydrogen

6
Sources: MINETAD (Geoportal), AOGLP, GASNAM, AEH2
Biofuels represent the largest share of alternative transportation fuels in Spain. Figures 4, 5, and 6 provide information on the feedstock, feedstock origin country, and production country of biofuels consumed in Spain.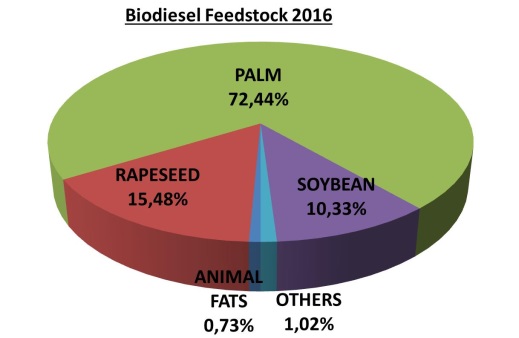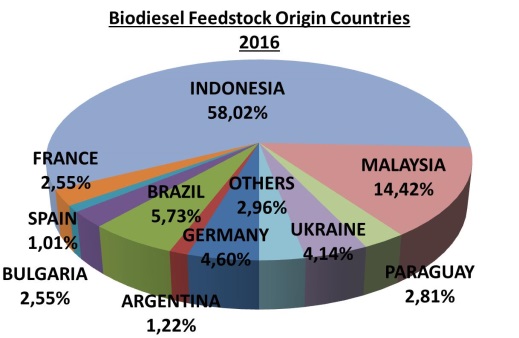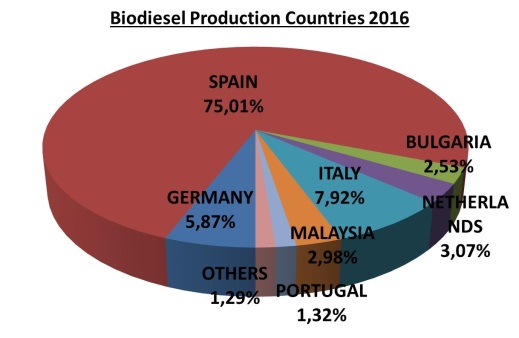 Fig. 4 Feedstock, Feedstock Origin Country, and Production Country of Biodiesel Consumed in Spain in 2016
(Source: CNMC)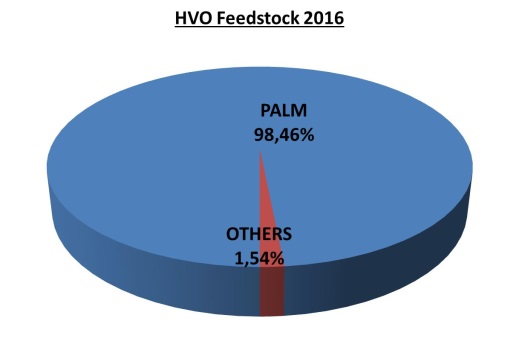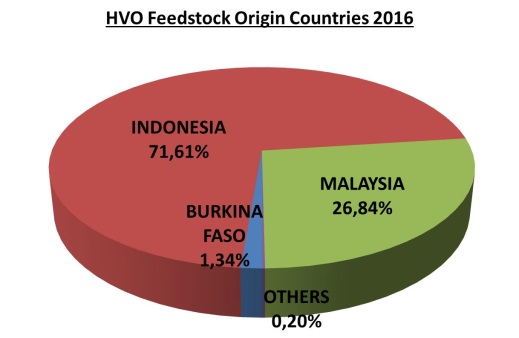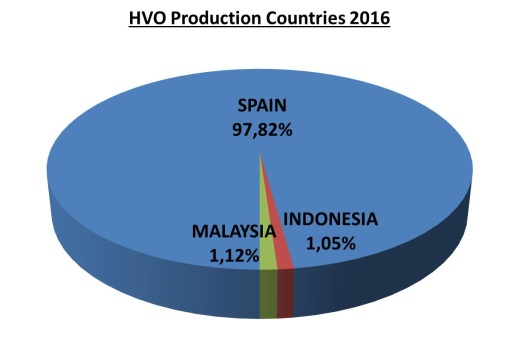 Fig. 5 Feedstock, Feedstock Origin Country, and Production Country of Hydrotreated Vegetable Oil (HVO) Consumed in Spain in 2016
(Source: CNMC)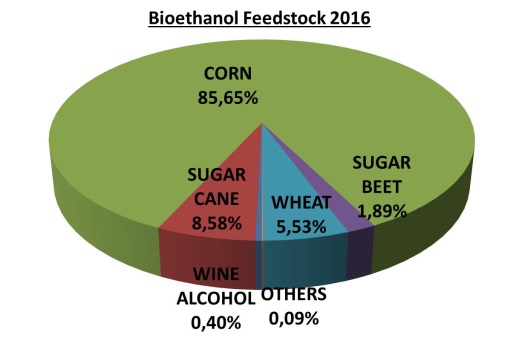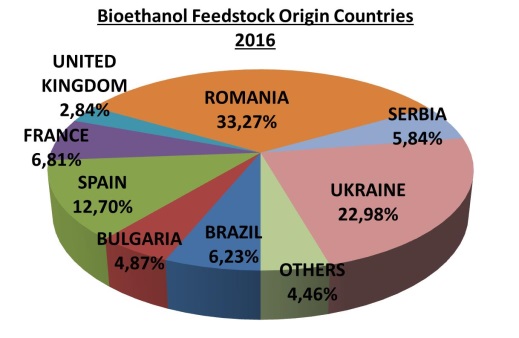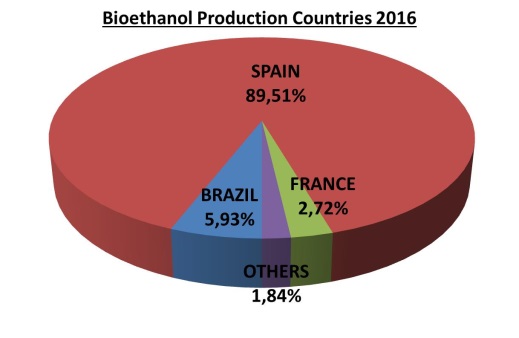 Fig. 6 Feedstock, Feedstock Origin Country and Production Country of Bioethanol Consumed in Spain in 2016
(Source: CNMC)
Research and Demonstration Focus
With regard to biofuels, the Spanish Bioeconomy Strategy, developed by the State Secretariat for Research, Development and Innovation (Ministry of Economy, Industry and Competitiveness), aims at fostering, among others, the bioenergy sector with a special focus on biorefineries. The First Annual Action Plan includes specific measures to promote public and private research and company investment in innovation.
In the National Action Framework for Alternative Energies in Transport, several programs are considered in order to support research, development and innovation (R&D&i): creation of clusters for innovation, incentives, cooperation through Technology Platforms, and support to research centers.
Wide research activity is carried out in Spain in relation to hydrogen technologies within the frameworks of national and European initiatives. Moreover, the World Hydrogen Energy Conference 2016 took place in Zaragoza, Spain, June 13–2016.
Outlook
According to the National Renewable Energy Action Plan, in order to fulfill the committed targets, consumption of biofuels is expected to reach 2,713 kilotonnes of oil equivalent (ktoe) in 2020.
The National Action Framework for Alternative Energies in Transport states that, by 2020, the natural gas fleet will reach 18,000 vehicles, the LPG fleet will consist of 200,000 to 250,000 vehicles, and it seems feasible that more than 500 hydrogen vehicles will be commercialized.
Additional Information Sources
AEH2: Spanish Hydrogen Association, www.aeh2.org (in Spanish)

AOGLP: Spanish Association of LPG Operators, www.aoglp.com (in Spanish)

Bioeconomy: http://bioeconomia.agripa.org/ (in Spanish)

CNMC: National Markets and Competition Commission, www.cnmc.es (in Spanish)

CORES: Corporación de Reservas Estratégicas (Oil Stockholding Agency), www.cores.es (in Spanish)

GASNAM: Spanish Association of Natural Gas for Mobility, www.gasnam.es (in Spanish)

Geoportal (MINETAD): Filling Stations, www.geoportalgasolineras.es (in Spanish)

IDAE: Instituto para la Diversificación y Ahorro de la Energía (Institute for Energy Diversification and Saving), www.idae.es (in Spanish)

MINETAD: Ministry of Energy, Tourism and Digital Agenda www.minetad.gob.es (in Spanish)

MOVEA Plan: http://www.moveaplan.gob.es/ (in Spanish)
Major Changes
The Spanish Bioeconomy Strategy developed its First Annual Action Plan, and a National Action Framework for Alternative Energies in Transport was approved.
Benefits of Participation in the AMF TCP
Membership in the AMF TCP provides wider and easier access to information on advanced motor fuels, as well as helpful analyses that can be used to guide national policies and programs.