Advanced Motor Fuels in Germany
Drivers and Policies
The development of advanced motor fuels in Germany is driven by the goals of fulfilling European and international climate protection strategies and reducing particulate matter (PM) and nitrogen oxide (NOx) emissions in highly polluted metropolitan areas. The Volkswagen NOx emission incident remains a leading public driver for improving test cycles and better controlling of vehicle manufacturers, as well as for the ban of high-pollutant engine technologies in urban centers. Major changes in the consumption of advanced fuels have been seen in the electrification of the fleet, although overall numbers remain at a comparable low level (see Advanced Motor Fuels Statistics [AMFS]). In the field of research, development, and exploitation, refineries implemented by, for example, Clariant (BtL – Biomass to Liquid) and Audi AG in Werlte (PtG – Power to Gas) have again proven market readiness for the advanced fuels' market. German market players are predicting a challenging situation for advanced fuels in the near future due to the establishment of European Union (EU) and German policies, as well as the remaining low price of conventional fossil fuels. Only a committed policy to support advanced motor fuels can strengthen an advanced fuel market.
Since January 2015, the benchmark for biofuel quotas has been based on a net greenhouse gas (GHG) reduction. This net quota increased from 3.5% in 2015 to 4% in 2017, and will rise to 6% in 2020. Biomethane can also be used to fill the quota. Furthermore, the amendment to the German Emission Control Act (Bundes-Immissionsschutzgesetz-BImSchG, December 2014) has banned all double-counting and excludes animal fats and bio-based oils that are co-refined with fossil-based oils from the quota eligibility. Biofuels are currently the only way to fulfill the target. However, a recent bill will expand the list to include animal fats, co-refinering, Power to X (PtX), the use of electricity in electric vehicles (EVs), and the upstream emissions reduction.
To decarbonize the transport sector, high priority has recently been given to electro mobility for short distance traffic and passenger cars, but also to the enforcement of compressed natural gas (CNG) infrastructure along the most important middle and long distance road networks. In addition, liquefied natural gas (LNG) for heavy duty transport (HDT) and waterborne application is strongly supported by the German Government. The Federal Ministry of Transport and Digital Infrastructure (BMVI) has provided €1 billon ($1.2 billion US) in incentives for improving alternative fuelling infrastructure, implementing buyers' grants to buy EVs, and fostering research, development, and demonstration (RD&D) in these fields. This also includes the implementation of a competitive infrastructure for hydrogen and fuel cell technology ("National Strategy for the Expansion of Alternative Fuels' Infrastructure"). In addition, in 2015, the BMVI established grants for public procurement incentives to equip fleets with EVs.
The German Government's goal is to have at least 1 million registered EVs by 2020. Electrification of transport is the main governmental strategy for reducing GHG emissions in this sector. But despite the new incentives given since 2016, EV sales remain low (see AMFS), and thus Germany is still at risk of missing the 1 million EV goal and its climate targets for road transportation.
The support of the CNG infrastructure is well received by the German NG interest groups. However, the experts also underline that the current tax reliefs for NG must be prolonged beyond 2018 to guarantee the viability of this fuel type in Germany. The absence of a political decision about tax reliefs has already negatively affected the deployment of NG vehicles and infrastructure in the market (see AMFS). A recent bill foresees prolongation of tax exemptions for CNG beyond 2018 — until 2026. Tax exemption for liquefied petroleum gas (LPG) will be phased out.
Recently, direct incentives have been implemented for using advanced motor fuels by a partial tax exemption for natural gas (CNG and LNG) and LPG as transport fuel until the end of 2018. Tax exemptions on biofuels in the agricultural and forestry sector underpin a niche market and will be effective beyond 2017.
Advanced Motor Fuels Statistics
The discussion, figures, and tables that follow show fuel consumption in Germany and the number of registered vehicles separated by fuel type.
Figure 1 shows the 2016 German fuel consumption for use in road transportation. The consumption of biofuels amounted to 3.4 Mt, with the majority being low-level blends of biodiesel and hydrotreated vegetable oil (HVO) and bioethanol. Due to the inexistence of incentives (e.g., tax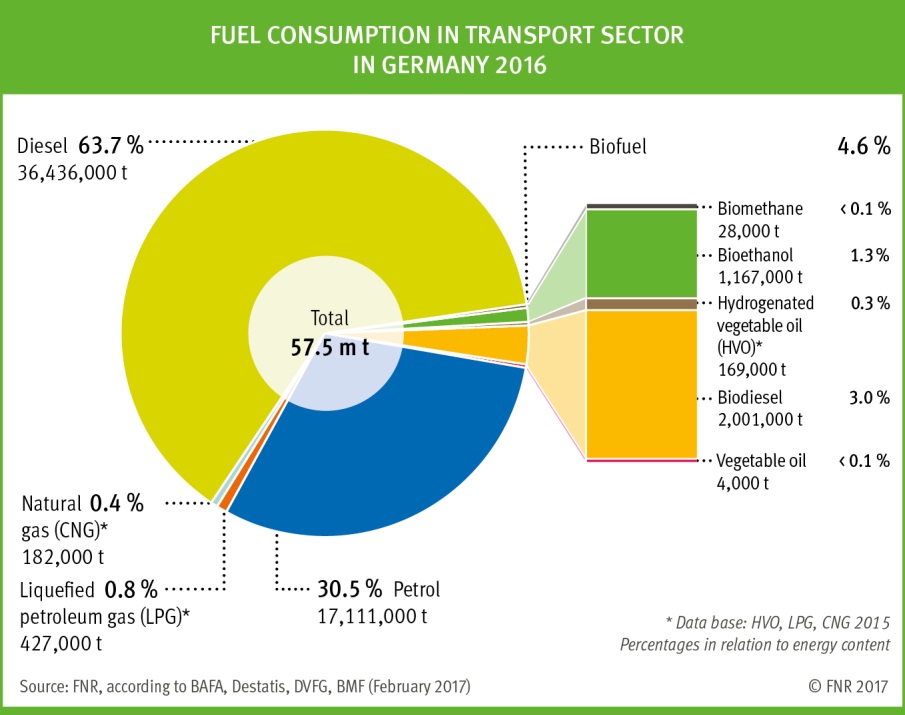 Fig. 1 Fuel Consumption in the Transport Sector in Germany in 2016
Source: FNR on the basis of BAFA et al.
exemption) there is no market demand for E85 and pure biodiesel (see Tables 1 and 2).
Tables 1 and 2 show the 2016 trends for biofuels and biofuel supplements. The switch at the beginning of 2015 in the biofuels quota legislation from quantitative quotas (energy content) to GHG-reduction quotas, and the settlement of a compromise on the EU level on the Renewable Energy Directive (RED) in 2015, has provided a small impetus for using advanced biofuels.
Table 1 Trends in German Biodiesel Sales, 2009–2016
Sale (kt)

2009

2010

2011

2012

2013

2014

2015

2016a

Blend

2,191

2,236

2,116

1,928

1,741

1,970

1,979

2,001

Pure biodiesel

241

293

97

131

30

5

3

NA

Total

2,431

2,529

2,213

2,059

1,772

1,975

1,983

2,005

a Data available for Jan–Nov 2016; extrapolated for Dec 2016.

Source: FNR on the basis of BAFA et al. 2017.33
Table 2 Trends in German Bioethanol Sales, 2009–2016
Sale (kt)

2009

2010

2011

2012

2013

2014

2015

2016b

E85a

9(7)

18(15)

19(16)

21(17)

14(11)

10(8)

7(6)

n/a

Ethanol

687

1,028

1,054

1,090

1,041

1,082

1,049

1,043

ETBEc

198

122

162

142

154

119

116

124

Total

892

1,165

1,233

1,249

1,206

1,209

1,171

1,167

a Including only share of ethanol.
b Data available for Jan–Nov 2016; extrapolated for Dec 2016.
c Ethyl tertiary-butyl ether; percentage by volume share of bioethanol in ETBE = 47%.

Source: FNR on the basis of BAFA et al. 2017.33
In 2016, 97% of the crude oil used in Germany had to be imported. Sources of imported crude oil are relatively well diversified, whereas 40% account for imports from the Russian Federation.
Table 3 shows the number of passenger cars on the road in Germany by fuel type for 2012 through 2016.
Table 3 Number of Passenger Cars in Germany by Fuel Type on January 1 of Given Yeara
Year

Gasoline

Diesel

LPG

NG

EV

Hybrid

2012

30,452,019

11,891,375

456,252

74,853

4,541

47,642

2013

30,206,472

12,578,950

494,777

76,284

7,114

64,995

2014

29,956,296

13,215,190

500,867

79,065

12,156

85,575

2015

29,837,614

13,861,404

494,148

81,423

18,948

107,754

2016

29,825,223

14,532,426

475,711

80,300

25,502

130,365

a LPG = liquefied petroleum gas according to European fuel quality standard EN 589.
NG = natural gas according to German fuel quality standard DIN 51624. EV = electric vehicle.

Source: KBA
A total of 54.6 million vehicles, including 4.2 million motor bikes were registered in Germany as of January 1, 2016; 45.1 million (86%) were passenger cars. Of the registered vehicles, 2.8 million (5.1%) were trucks and 1.4 million were agricultural and forestry machinery. The rest were buses and other vehicles.
Research and Demonstration Focus
Public funding in the field of advanced motor fuels on the national scale is supported by the BMVI (infrastructure, e-mobility, LNG, CNG; "national Strategy to Extend the Infrastructure for Alternative Fuels"), the Federal Ministry of Education and Research (BMBF) (PtX; "Kopernikus Projects"), and the Federal Ministry of Food and Agriculture (BMEL) (biofuels, biomass-to-liquid [BTL]).
Under the Renewable Resources Funding Scheme of the BMEL, 19 R&D projects are receiving funding of €5 million ($5.3 million US; ongoing projects in 2016). This support includes funding for projects related to bioethanol, biodiesel, vegetable oils, biomethane, and advanced biofuels.
The focus of the advanced fuels projects has been on the production of:
Hydrocarbon from biochemical pathways,

Fuels by other renewable resources (e.g., kerosene from algae), and

Renewable oxygenates as gasoline and diesel blending components.
Nevertheless, under this funding scheme, a reasonable decrease in funded projects related to biofuels can still be seen.
Outlook
Policy and research development frameworks at the EU and international level will strengthen the advanced motor fuel market. But new debates by the European Commission (EC) to revise the RED and Food Quality Directive (FQD) and the advanced fuels quota, will again alienate fuel producers and the related market. Measurements discussed above to promote e-mobility, CNG, and LNG will have a positive impact on the market. Further R&D activities (e.g., reducing the GHG emissions of biofuels to make them compatible with the amended RED and FQD, and upscaling advanced biofuel production processes to an industrial scale) are persistent challenges for the near future.
Additional Information Sources
Bundesverband der deutschen Bioethanolwirtschaft, www.bdbe.de

Bundesverband Regenerative Kraft, www.brm-ev.de/en

Federal Ministry of Transport (BMVI), www.bmvi.de/EN

Federal Ministry of Education and Research (BMBF), www.bmbf.de/en

Federal Ministry of Food, Agriculture (BMEL), www.bmel.de/EN

Federal Motor Transport Authority (KBA), www.kba.de/EN

Verband der Deutschen Biokraftstoffindustrie, biokraftstoffverband.de